Trips and Sporting Activities
Trips and sporting activities around Clenord Manor ...
The Clenord Manor is ideally sited for sightseeing. In addition to visiting the great chateaux, the Loire Valley can provide the visitor with many trips and sporting opportunities.
---
Golf: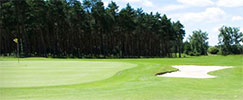 Cheverny Golf Course
Constructed around the enormous Rousseliere pond (or lake) these erstwhile hunting grounds of the Chateau de Cheverny are today a golf course, as famous for the quality of its landscape as for its impeccable maintenance.
>> Visit website
Other sporting activities:


The Loire on a Bike : a simple ramble or a long cycling tour (website)
Hot air ballooning : with a possibility of departing from the great chateaux (website)
Explore the Loire on a traditional boat : (website)
Canoeing on the Loire : trips lasting anything from an hour to several days (website)
Helicopter : Fly over the chateaux in a helicopter (website)

Walking : short rambles or long hikes... the path of the GR3 walking trail passes only 200 metres from Clenord Manor.
See the section from the Chateau de Beauregard to Chateau de Chambord by the GR3
(the path of the GR3 is in blue, Clenord Manor is at point B).
Useful Addresses:
The Tourist Office of Blois - Chambord region
23 place du château - 41000 Blois - Tel. : 02 54 90 41 41 - website
The Loir-et-Cher Departmental Tourist Committee
5, rue de la Voûte du Château - CS 4323 - 41043 Blois Cedex - Tel : 02 54 57 00 41 - website
Odyssée en Val de Loire - Excursions in minibuses - Guided visits (website)
See the chateaux near the Manor...
See other ideas for visits...
Restaurants
Leisure visits
Restaurants
Leisure visits