Tourism in the Loire area
Sightseeing and leisure visits around Clenord Manor ...
The Clenord Manor is ideally sited for sightseeing. In addition to the visits to great chateaux the Loire Valley has many other interesting sites for the visitor.
---
Visites :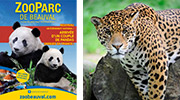 Beauval Zoo Park
The most spectacular zoo in France, ranked among the 15 best zoos in the world. More than 4,600 animals, many of which are unique in France. This is truly a magical and unforgettable place to visit. The zoo park is heavily committed to the protection of endangered species.
>> Visit the website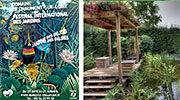 Garden Festival
Every year from May to October, in the grounds of the castle of Chaumont-sur-Loire, this international festival presents original creations on a common theme. For lovers of nature or poetry...
>> Visit the website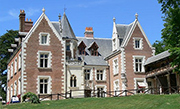 Chateau du Clos Lucé
Leonardo da Vinci spent his latter years working on numerous projects for Francois 1st at the Chateau du Clos Lucé. Rooms of models, exhibitions, a beautiful park of 1ha (2½ acres), giant machines, an area of discovery, dedicated to nature and the visionary genius of Leonardo da Vinci.
>> Visit the website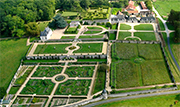 Gardens of the Chateau de Valmer
10 km - 6 miles northwest of Amboise, Château de Valmer presents an enchanting setting dedicated to the pleasures of gardens. There are hanging gardens created during the Renaissance , a collection of old varieties of garden vegetables, a classical large park with arboretum, a troglodyte chapel and wine production.
>> Visit the website
And also:
Tintin museum : at the Chateau de Cheverny (website)
House of Magic : in Blois, near the Chateau (website)
Gastronomic specialities and Wines:
L'Atelier St Michel (The St Michel Workshop) at Contres:
discover and taste handmade St Michel biscuits (cookies) and cakes. (website)
Max Vauché : Chocolatier at Bracieux. (website)
Le Clos de la Calèche (Wine seller and advisor), 3 rue du Stade in Cour-Cheverny: fine selection.
Cheverny Wines Club : near the entrance to the chateau (website)
as well as visits to winegrowing estates in the AOC regions of Cheverny et Cour-Cheverny .
Useful Addresses:
The Tourist Office of Blois - Chambord region
23 place du château - 41000 Blois - Tel. : 02 54 90 41 41 - website
The Loir-et-Cher Departmental Tourist Committee
5, rue de la Voûte du Château - CS 4323 - 41043 Blois Cedex - Tel : 02 54 57 00 41 - website
Odyssée en Val de Loire - Excursions in minibuses - Guided visits (website)
See the chateaux near the Manor...
Activities, sport and walking...
Activities
Chateaux of the Loire
Activities
Chateaux of the Loire