Click on the thumbnails below to visit one or other of the rooms in greater detail...
Les Tilleuls
Suite Soleil
Suite Framboise
Glycine
Les Figuiers
Breakfast

"Glycine" guest room
Comfortable, discreetly refined bedrooms...
This small room is on the ground floor of the Orangery building. It opens onto the Manor's historic interior courtyard, with it's ancient wisteria covered well.

At the entrance to the room, there's an inviting vine covered arbour. Pointing west, it's perfect to take advantage of sunny evenings.
"Glycine" ("Wisteria") guest room - Ground floor of the Orangery -
View onto courtyard - 2 people

- Vine covered arbour with table and chairs.
- 1 double bed 1m60 (5ft3in) wide
- Cupboard, television, small table
- Bathroom: washbasin, bath with shower screen, hair dryer
- Separate toilet.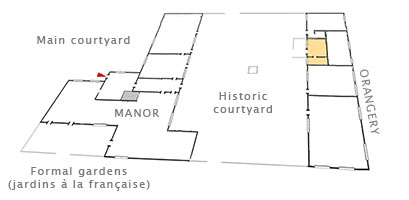 Vehicles are not allowed into the interior courtyard in order to preserve it and its historic character. However, it is possible to park by the entrance to take out suitcases etc.
See the tariffs...
Continue visiting the rooms...
ou
Return to general introduction
Home to rent
The Manor
Home to rent
The Manor