Click on the thumbnails below to visit one or other of the rooms in greater detail...
Les Tilleuls
Suite Soleil
Suite Framboise
Glycine
Les Figuiers
Breakfast

"Les Tilleuls" guest room
Comfortable, discreetly refined bedrooms...
On the first floor of the manor house, this room has all the charm of great country houses. The room is spacious and the window looks out over the formal gardens. This feeling of spaciousness together with history filled comfort make for a very agreeable stay.
"Les Tilleuls" ("The Lindens") guest room - First floor of the manor house -
View over the gardens - 2 people

- 31 sq metre (330 sq ft) bedroom
- South facing
- "Directoire" period style wardrobe and dressing table
- 1 King size 2 metre (6ft6in) wide double bed
- Television
- Bathroom: washbasin, bath with shower screen, toilet, hair dryer.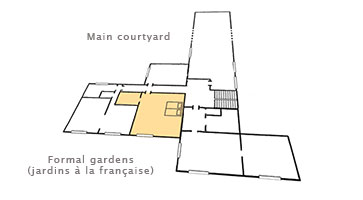 See the tariffs...
Continue visiting the rooms...
ou
Return to general introduction
Home to rent
The Manor
Home to rent
The Manor