Click on the thumbnails below to visit one or other of the rooms in greater detail...
Les Tilleuls
Suite Soleil
Suite Framboise
Glycine
Les Figuiers
Breakfast

"Soleil" guest suite
Comfortable, discreetly refined bedrooms...
On the first floor of the manor house, this suite looks directly out over the formal gardens. To the left, the linden lined avenue leads to the statue of the Muse. In the distance, willows line the Beuvron river.

This "Empire" period style suite consists of a boudoir and a large bedroom.
"Soleil" ("Sun") suite - First floor of the manor house - View over the gardens - 2 or 3 people

- 40 sq metre (430 sq ft) suite: bedroom + boudoir + corridor + bathroom + toilets
- South facing
- 2 metre (6ft6in) double bed plus 1 sofa in the sitting room which converts to a 90cm bed
- 2 armchairs, table and chest of drawers in "Empire" period style
- Television, cupboard, fireplace
- Bathroom: washbasin, bath with shower screen, hair dryer
- Separate toilet.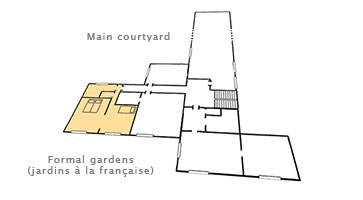 See the tariffs...
Continue visiting the rooms...
ou
Return to general introduction
Home to rent
The Manor
Home to rent
The Manor